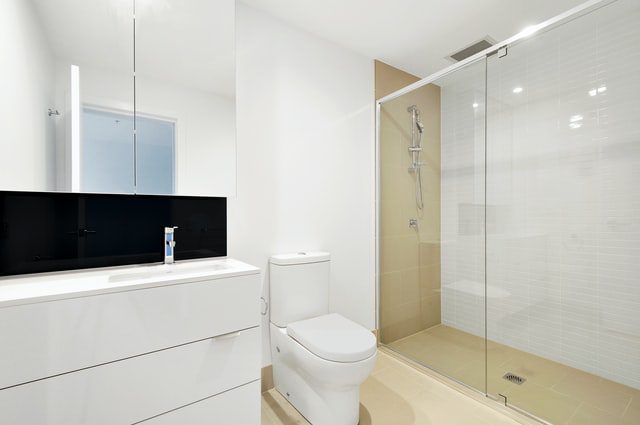 Are you interested in replacing your shower door? If so, you may want to consider a glass shower door. Our team at Shower Doors of Charlotte specializes in luxurious frameless glass shower doors and enclosures. All of our frameless enclosures are meticulously measured, professionally installed, and enjoyed for a lifetime!
With our custom designs, we build shower enclosures that fit each client's specific requirements. With options ranging from modern to traditional, our goal is to help you create a sleek, clean design for your bathroom. To learn more about types of shower door replacements, read on.
Here's what you need to know about our shower door series:
Sliding Shower Enclosure
Frameless Shower Doors
Textured Glass Enclosure
Barn Door Enclosure
Glass Block Enclosure
Sliding Shower Enclosure
A sliding enclosure is the next best thing if you want the aesthetic appeal of glass, but you do not have enough space for swinging doors. Most bathrooms can benefit from this space-saving option and these doors can be customized to fit every size and style.
Budget-conscious homeowners may want to consider a partially frameless sliding door, which gives you an airy look without costing a lot of money. Plus, you don't have to skimp on quality or look if you need a full shower door! With a variety of glass options, you can create the vibe you've always envisioned, while working with your bathroom space.
Here at Shower Doors of Charlotte, our glass sliding door options range from standard bypass to custom barn door style designs and everything in between. With customizable options, built to suit and fit your exact measurements, styles and needs for your bathroom, these glass sliding doors don't have to be used just for bathroom spaces either.
Frameless Shower Doors
Another common type of shower door replacement that can leave your bathroom feeling luxurious, is a frameless shower door. Get the appearance of a glass shower enclosure without the clunky door features.
Featuring 3/8″ or 12.5″ thick tempered glass, our standard frameless glass doors here at Shower Doors of Charlotte, can be customized with various glass options to match your bathroom decor. From patterned glass options such as Rain, Satin, and Obscure to Ultra-Clear or low-iron glass, our classic frameless glass shower doors offer beautiful variety for the modern homeowner.
For bathrooms with lighter color pallets or white tile, we often recommend our Ultra-clear glass to make your bathroom feel luxurious and cohesive.
Learn more about Shower Doors of Charlotte and our Glass door series collections.
Textured Glass Enclosure
Do you want an extra layer of privacy without the frosted appearance? You might be interested in textured glass shower doors. With different textures, you can create a feeling of depth that wasn't in your space before.
Textured glass can work to make your bathroom appear larger than it is by allowing you to see through the glass, while masking the little details. Similarly, playing around with textured glass can create a completely different vibe as you shower as well! As the water flows down your new textured glass shower doors, you may even begin to feel like you're at the spa.
Barn Door Enclosure
Barn door shower doors are another great option when looking into replacing your shower door! With several advantages over the traditional swinging door, these barn-esque styled doors work perfectly in a guest bathroom or even a grand master bath. Barn door shower enclosures are a wonderful solution when a bathroom space is small and tight. With the ability to create an open airy vibe, these barn doors might be the best option for your replacement needs.
Glass Block Enclosure
Glass block shower enclosures are a popular choice when you want your shower doors to stand out. Getting privacy without the use of a door is possible with a glass block enclosure. With several textured patterns to choose from, these enclosures can create an environment that is both cleaner, cooler and cohesive.
Shower Doors of Charlotte
Shower Doors of Charlotte has a long legacy of top quality projects and has earned a reputation that has been built from the ground up on integrity, highly skilled staff. From new installation projects to home renovations, we have industry expert technicians and beautiful solutions you need.
Our frameless shower enclosures are designed with 3/8" or 1/2" tempered glass and minimal hardware. With thick heavy glass, our designs add stability to your shower structure, eliminating the use of metal framing. Keeping that in mind, with swinging technology, our door designs allow water to drain right back into your shower. Our shower enclosures are easier to maintain, easy to customize, and add value to your home.