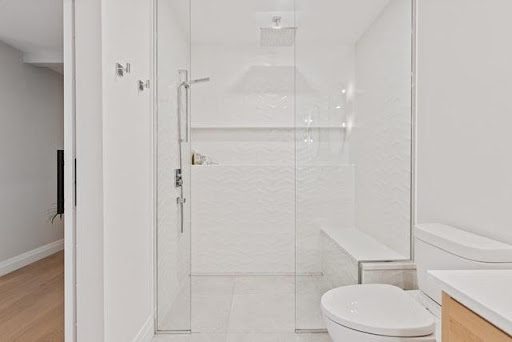 Your shower door can work for or against your bathroom space. If you've been considering swapping out your shower door for a sleek upgrade, then you've come to the right place. Here at Shower Doors of Charlotte, we specialize in luxurious frameless glass shower doors and enclosures. All of our frameless enclosures are meticulously measured, professionally installed, and enjoyed for a lifetime!
With a custom shower door that speaks to your needs, style and unique bathroom, you can create the beautiful, cohesive shower space you've been dreaming of. A shower door can make a huge difference in how your bathroom looks, feels, and even operates. To learn more about the benefits of a custom, glass shower door replacement, keep reading.
Here are 5 top benefits to custom shower doors:
Create a Larger Space
Improve Bathroom Safety & Functionality
Customize Your Space
Protect Your Bathroom
Increase Home Value
Shower Doors of Charlotte
Create a Larger Space
When it comes to your bathroom, who wouldn't want a luxurious, large space to relax, reset and get clean in? While this is often the opinion of the vast majority of us, the average home bathroom isn't going to be exceedingly large.
Along with that, when you incorporate older architecture and designs, your current shower situation might not be doing wonders for your space. With a custom glass shower door – especially a frameless one – you can let light into your bathroom and completely open up the space. Give your bathroom that luxurious, bright, modern look you've been craving with a custom shower door.
Learn more about Shower Doors of Charlotte and our Glass door series collections.
Improve Bathroom Safety & Functionality
When you step out of the shower, do you see an instant puddle on the floor? If so, it may be time to update your shower door or tub unit. Old or outdated shower doors, flimsy shower curtains, and broken shower units can leave water to escape the shower. Rather than create a slip and fall hazard for you and your family, custom shower doors can utilize modern style and technology to create a tight seal that keeps water where you want it. Improve bathroom safety and functionality without losing the style.
Customize Your Space
Oftentimes, when you buy a home, you're not going to get much say in what your bathroom will look like. On the same note, bathrooms can be some of the last places for home renovation projects. If you've finally found the time to update your shower, why not customize it the exact way you've been dreaming. Whether you're completely gutting your bathroom, or you're simply looking to update a few things, a customizable glass shower door is the perfect opportunity to do just that.
A glass shower door can be custom-made to any size, giving you the chance to show off your style. With a variety of glass options, choose from clear glass for an open, airy space or patterned glass for privacy. Similarly, opt for a framed door or a frameless door! The options are endless and allow you to truly customize your entire bathroom vibe.
Protect Your Bathroom
When it comes to our bathroom spaces, excess water is inevitable. Along with that, shower curtains and ill fitted or outdated doors contribute to a lot of mold and mildew buildup in the shower. A glass shower door not only dries faster but is also incredibly easy to clean. Avoid mold and mildew, upgrade your bathroom shower door! Not only will you be able to protect the health and integrity of your bathroom while avoiding expensive projects in the future, but you can also protect the health of anyone who uses your shower.
Increase Home Value
From protecting the integrity of your bathroom, creating a cohesive, open, airy space, to improving bathroom safety, a custom glass shower door can work for you in a variety of ways. Along with that, for those of you who purchased older homes, a bathroom upgrade like a shower door can even increase the value of your home for future sales! Enjoy your home in the present and set it up for sale success in the future with a custom glass shower door.
Shower Doors of Charlotte
Shower Doors of Charlotte has a long legacy of top quality projects and has earned a reputation that has been built from the ground up on integrity, highly skilled staff. From new installation projects to home renovations, we have industry expert technicians and beautiful solutions you need.
Our frameless shower enclosures are designed with 3/8" or 1/2" tempered glass and minimal hardware. With thick heavy glass, our designs add stability to your shower structure, eliminating the use of metal framing. Keeping that in mind, with swinging technology, our door designs allow water to drain right back into your shower. Our shower enclosures are easier to maintain, easy to customize, and add value to your home.