The hardware on a frameless shower enclosure is designed to accent the glass, not steal the show. Hardware can add function by adding a towel bar or robe hook, it can be coordinated to match fixtures and the style selection can bring it all together to complement your design style. We also work with multiple manufactures to prevent backorder of hardware issues and keep an extensive amount of hardware in stock.
Handles, Towel Bars, Towel Bar / Handle Combinations, Robe Hooks and Knobs can all be added to your Frameless Shower Enclosures … it's your shower, design it the way you want it!
Frameless shower hinges are designed to allow the door to swing both inward and outward. Each hinge has maximum door weight and width limitations. Our experts will recommend hinges that will meet the structural requirements and coordinate with your bathroom style. Different hinges are required for heavier doors or pivot style doors. Hinges & clips generally either have rounded or squared corners. Our experts can assist you in choosing a hinge style that will complement your frameless enclosure.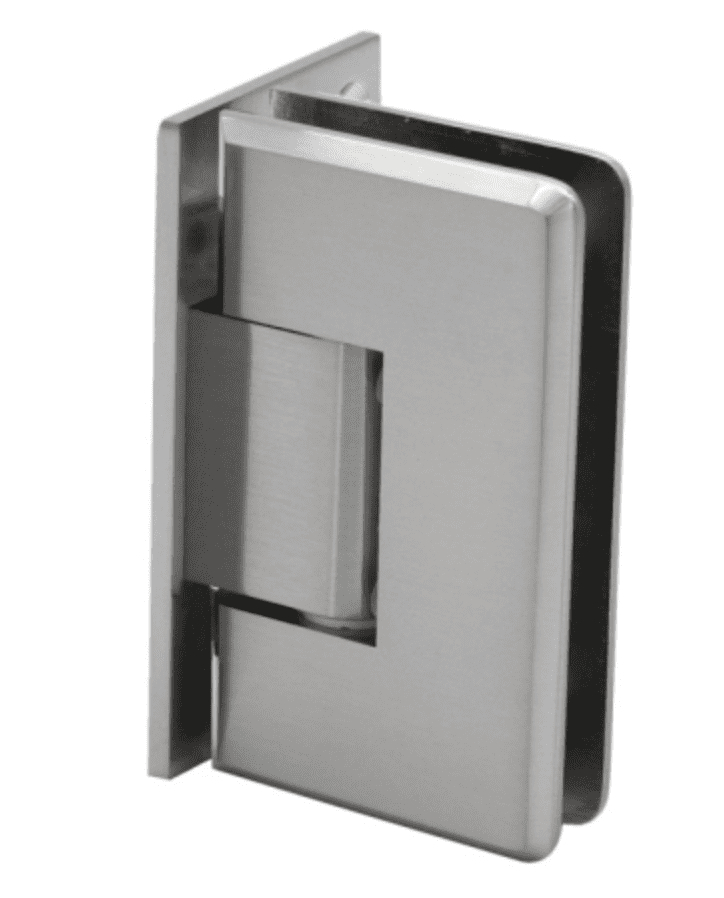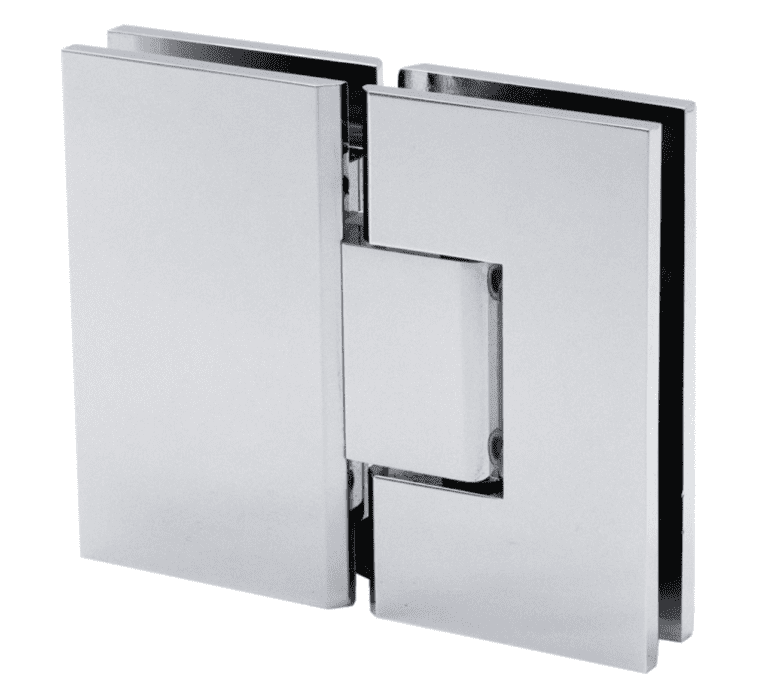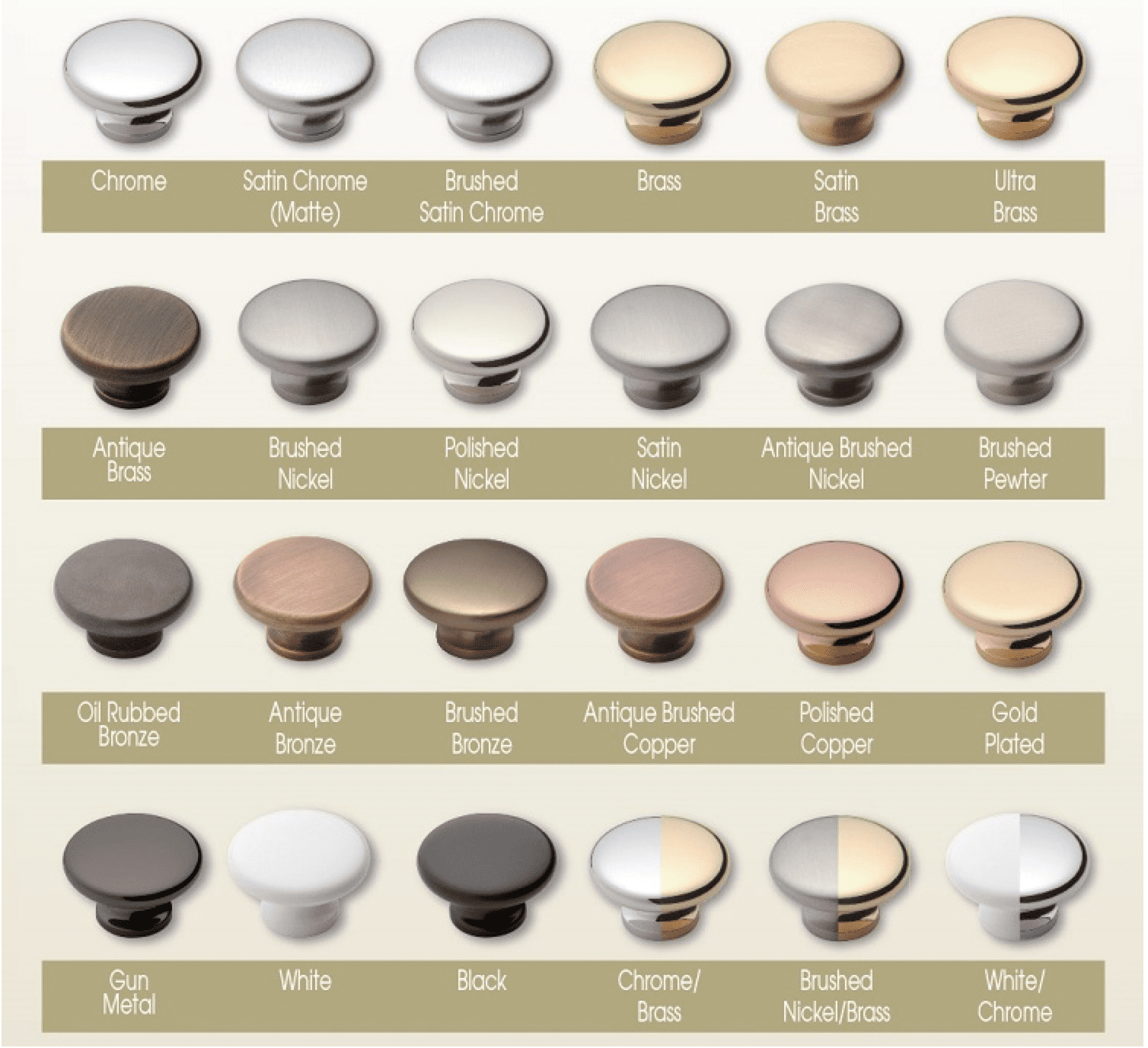 Our experts can help you choose the perfect hardware from our brilliant array of finishes to match your bathroom décor, including chrome, brushed nickel, polished nickel, oil rubbed bronze, matte black, brushed bronze, satin brass, brushed gold, gold and many more.
Frameless shower doors/enclosures are built with 3/8" or ½" tempered glass. Although clear glass is the standard, there are several glass protectants and glass options available to protect and personalize the glass in your frameless shower including ShowerGuard Glass, DiamonFusion, Enduroshield as well as specialty glass like Rain, Satin, Obscure and stunning Ultra-Clear glass.
Glass Protectants: ShowerGuard, DiamonFusion, Enduroshield & Invisishield
ShowerGuard Glass is a superior type of glass that has an ultra-smooth surface which prevents water & minerals from permanently bonding to the surface of the glass.
DiamonFusion, Enduroshield & Invisishield are all products that are permanently applied to the surface of the glass by the manufacturer and create a hydrophobic surface which helps to minimize cleaning and protect the glass from minerals & soap scum build up. They act to repel water which causes it to bead up on the surface.
The Ultra-clear or Low Iron Glass is a beautiful option for light colored or white tiled bathrooms. Normal glass has a slight green tint to it, but Ultra-Clear glass has a lower iron content which makes the glass appear optically clear making white tile still look white.
The availability of pattern glass options varies, so please check with your sales representative if you are interested in a pattern or obscure glass to see what is currently available.
Less iron, more WOW
Low Iron or UltraClear glass has reduced iron content for beautifully transparent results. Unlike standard glass, there's no green tint to be seen. UltraClear glass is clear to the edge—no matter the glass size or thickness. It renders background colors, textures and images with impressive fidelity. And lets in abundant light to create spaces that feel bright, open and boundless.

Congratulations on the purchase of new frameless shower enclosure. Rest assured that your glass shower enclosure was built to last and we proudly offer a lifetime workmanship warranty. Simply contact our office by email or phone with any warranty concerns.
Care & Maintenance
Maintaining the Beauty: Cleaning Tips for your new Frameless Shower Enclosure
The products listed below are recommended by the manufacturers to maintain the beauty and function of your new frameless shower enclosure.
Quick Cleaning Tips:
Clean Magic Erasers work wonders to remove excess mineral and soap build up.
Squeegee the glass on a regular basis to prevent soap scrum from accumulating.
Soft Scrub with Lemon Cleaner can remove stubborn stains.
Mild dish soap and warm water are recommended for cleaning the frameless shower enclosure hardware.
Never use abrasive or corrosive cleaning products.
DiamonFusion, Enduroshield & Invisishield Glass:
Acting as a shield, these coatings bond to the glass and help protect it against dirt, grime and soap scum, from staining, etching or discoloring the surface. These products repel both water (hydrophobic) and oil (oleophobic) leaving an easy to clean surface that is very similar to a non stick fry pan. This means you clean less often with less effort, and the surface won't deteriorate over its life as untreated surfaces do. These products reduces cleaning time by up to 90%!
Acceptable Cleaning Products:
Only mild soaps that do not contain harsh or toxic chemicals are needed to maintain the surface effectively. Any cleaner used on surface should be thoroughly rinsed with clean water immediately.
Windex 
Lysol 4in1 Bathroom Cleaner
Fantastik Orange Action
Green Works Natural Glass & Surface Cleaner (by Clorox)
Clean Shower Daily Shower Cleaner (Arm & Hammer)
Mr. Clean Magic Eraser when damp
What To Avoid
Be careful not to use any rough, gritty, highly acidic, alkaline or abrasive cleaners such as Comet (powder), Ajax or cerium oxide as they may damage the protective coating. Cleaners like this damage or polish back the actual substrate of the surface.
The frameless shower enclosure hardware, if given proper care, will remain as beautiful as it is now. Neglecting or ignoring the basic rules of maintenance will result in the hardware not living up to its potential life. The best way to maintain the beautiful finish on the frameless shower door hardware is to wipe it down after every use. After you shower, use a dry towel to thoroughly dry the hardware. If the hardware is kept clean after every use, it will not collect mineral deposits that require the use of soap solutions. If you are unable to dry the hardware after every use, a weekly cleaning is suggested. The correct method to be used in cleaning the shower enclosure hardware is a mild soap and warm water mixture. Mix a couple drops of mild liquid soap, such as Ivory, into a cup of warm water. Use a soft, non-abrasive cloth to clean the hardware. After you have cleaned the hardware, rinse thoroughly with clean warm water and dry.
WARNING:
Never use abrasive cleansers of any kind on the hardware. Many of the components are coated with a clear lacquer that will be irreparably damaged if subjected to the harsh abrasive chemicals or scrubbing devises. Following these simple guidelines will ensure your frameless shower glass and hardware will remain beautiful and the protectant products will function to their fullest extent.
The sweep at the bottom of each swing door has two soft fins on the under side. When opening the door, be sure to swing it far enough in or out that these soft fins are able to reset and not bind up. If you only push the door a few inches, then the fins will cross up and make the door difficult to operate. The bottom sweep is not covered under the warranty but replacements sweeps are available for purchase.
Clear acrylic seals can be added to the shower enclosure to reduce water from escaping from the shower. Frameless showers are not intended or designed to be 100% water tight. Shower head placement, water pressure, size of the shower and slope of the curb are just a few factors that will affect how well water stays inside the shower enclosure. Water runs down our glass and it is told and coached where to go based on the slope of your curb and possible grout lines. However, most agree that it is better to see the water than to have it trapped inside a metal frame growing mold & mildew.