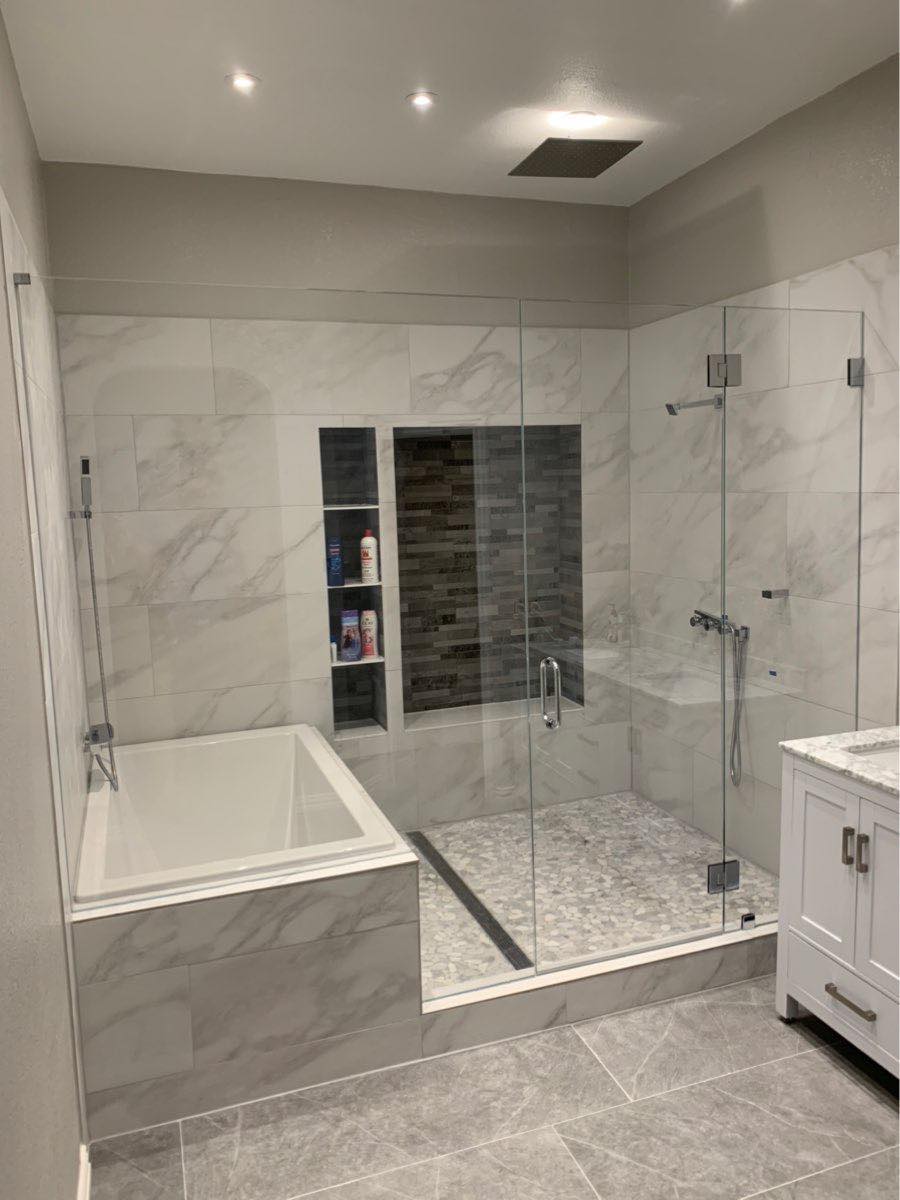 The bathroom is one of the most important rooms in a house.
In fact, did you know that the average person spends 813.3 days in the bathroom? That equates to more than two years of their life! As one of the most important parts of your home, you should invest time and money to make it look elegant and inviting.
One of the most cost-effective ways to give your bathroom a fresh new look is to install a frameless shower door. Frameless shower doors upgrade your shower into an elegant, minimalist space that offers a spa-like experience at home.
In this guide, we'll focus on installing frameless shower doors and why they are preferable to framed shower doors. But first, let's get down to the basics.
Framed vs. Frameless Shower Doors
While framed shower doors come with an aluminum frame around the interior edges, frameless shower doors are basically panels of tempered glass.
The superficial difference here is the absence of the metal support found in the framed shower doors. The metal tends to corrode, vinyl gaskets shrink and water ends up trapped in the framing which leads to mold & mildew growing in places you can't clean. The framed showers also use thinner glass which is why the frame is important and provides structural stability to an otherwise flimsy glass. However, frameless shower enclosures use glass that is twice as thick and which eliminates the need for the metal framing. Most people opt for frameless showers owing to their simple and elegant nature and ease of maintenance. Their design aesthetics give your shower a modern and open look you'd expect in a contemporary home.
Framed showers are often referred to as basic builder grade enclosures that use adjustable overlapping metal jambs to account for out of square conditions and varying shower sizes. This means less precise fabrication is required
Shower Doors of Charlotte creates sleek and luxurious frameless shower doors. Contact us and request a free quote about custom designs!
Advantages of Frameless Shower Doors
Frameless shower doors offer many advantages compared to framed doors, including:
Increased Space
If you're considering upgrading to a frameless shower, you'll be glad to know that remodeling will create extra space in your bathroom.
Once you eliminate the shower curtains or move on from your framed shower, the space used automatically feels bigger. This is particularly important if you have a small bathroom.
Visually Pleasing
Perhaps the most striking advantage of frameless doors is that they look amazing with a sleek and elegant design.
These doors have an upscale feel that gives you the vibe you feel in a luxurious hotel. Better still, they allow you to showcase the elegant tiling inside your shower, further enhancing the visual appeal of the space.
More Durable
Another thing to note about frameless shower doors is that they are extremely durable. The thicker glass is more rigid and eliminates the need for metal framing.
Easy to Clean
To many people, cleaning the bathroom is no fun but frameless showers are much easier to clean & maintain. First, there are amazing products available for frameless shower glass that can help keep your shower glass looking great! Products like ShowerGuard Glass and DiamonFusion create ultrasmooth glass surfaces which prevent soap scum from building up and greatly reduce the time it takes to clean & maintain.
Secondly, with a frameless shower door, you'll never have to deal with mold & mildew build-up hidden inside the metal framing. Mold build-up is one of the major problems associated with framed shower doors. Water seeps into the metal track around the vinyl gaskets and becomes trapped inside the metal frame where it grows rampant in the cozy warm shower environment. The thicker glass of frameless showers eliminates the need for the metal track and eliminates the hiding spots that are impossible to clean.
Therefore, if mold is one of the bathroom issues that put you off, you should probably consider going for a frameless shower door.
Available in Various Styles
Finally, when remodeling your bathroom, you can choose from different styles, configurations, and sizes of frameless doors. Customization gives you the utmost satisfaction since you literally make the bathroom space your own. Each frameless shower is meticulously measured and fabricated for YOUR shower enclosure.
The added flexibility also makes it easier to change things up whenever you want to and work within your preferred budget. There are no standards to limit your design options!
Install a Frameless Shower Door
If you're considering going for a frameless shower doors, you have much to gain. The main advantages of frameless shower doors include the ability to create extra space in the bathroom, the design aesthetics, the durability associated with tempered glass, the ease of cleaning, and availability in different styles, configurations, and sizes.
Frameless shower doors are made of 3/8" or 1/2" thick tempered glass panels that eliminate the need for the metal support found in framed shower doors. This gives your shower a luxurious and sophisticated look! Ready to install your frameless shower door? Shower Doors of Charlotte excels at building frameless showers and enclosures that are meticulously and professionally installed. Contact us!