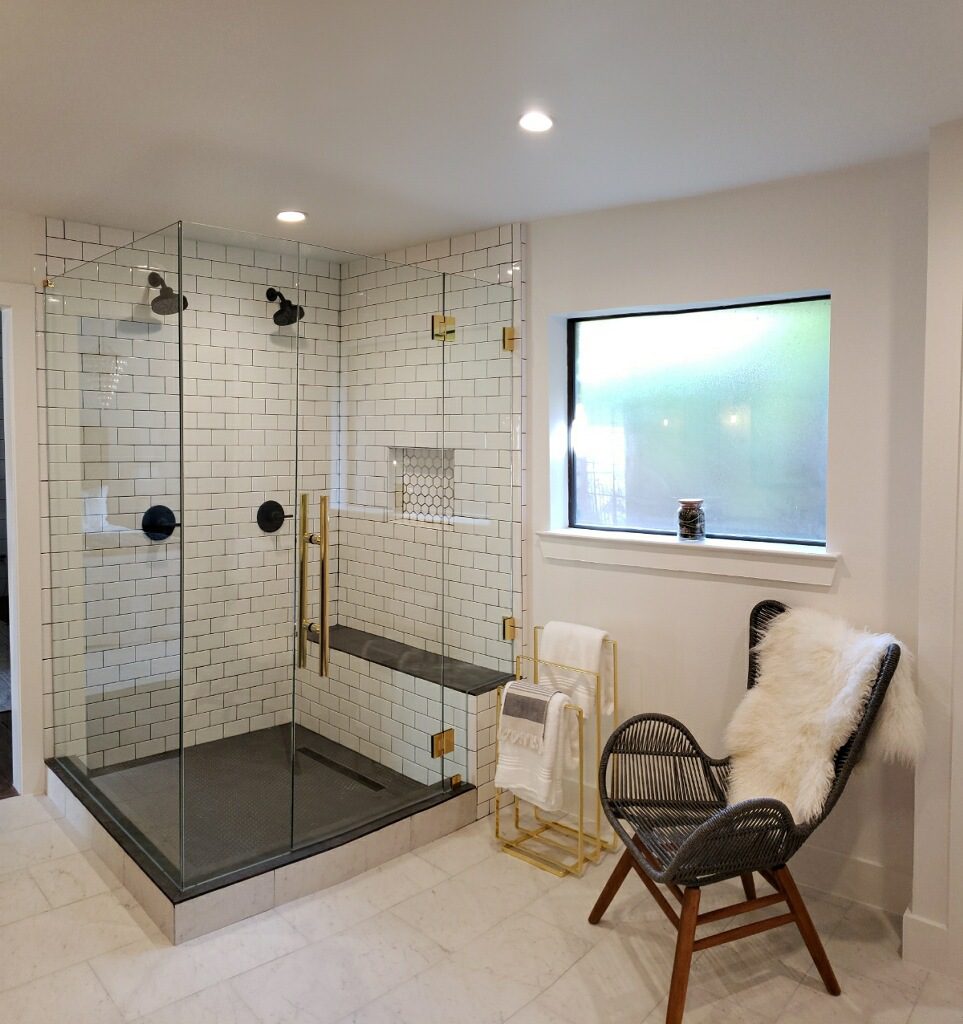 In 2021, with the increase of individuals working from home, a Statista survey found that 39% of people renovated their master bathroom because they had the means, 33% renovated because they could not stand their old one, and another 25% renovated because they wanted to personalize it.
To that we say, bravo! The average person spends at least 30 minutes in the bathroom daily, which totals more than 182 hours spent in the bathroom every year. If you are going to use any room in your house on a consistent basis, it is going to be your bathroom. You might as well enjoy it!
With that being said, we've put together the latest functional and fabulous bathroom trends you will want to consider as you re-envision your bathroom:
Barn Sliding Doors
Mirrors
Frameless Shower Doors
Striking Metals & Hardware
Are you building a new construction home or remodeling your bathroom? Contact Shower Doors of Charlotte for a quote!
Barn Sliding Doors
While a barn sliding door might lead you to think of a wooden barn door, re-frame your thoughts to more of a barn door concept! This industrial style of shower doors uses a heavy glass door that moves with exposed rollers. The design is sleek, uses less hardware, and shows more of the shower's beautiful glass.
Cambridge Sliding Doors, in particular, are great for barn door-style frameless showers and room enclosures.
Mirrors
Are you a minimalist? A modernist? A romantic? Your bathroom mirror is one of the easiest and most affordable ways to make a statement about your personal style! Believe it or not, there are quizzes to help you determine what mirror best reflects your taste.
Besides, with access to rounded-rectangle, antique gold-rimmed, and circular mirrors, why would you ever choose just a simple sheet of glass?
Frameless Shower Doors
Frameless showers are both a practical and aesthetically pleasing choice because of their openness! Frameless shower doors eliminate the need to think about where to position a door or its movement, which immediately gives your bathroom a luxurious, larger feel.
Other benefits of a frameless shower include their custom design possibilities and added value to your home. Plus, the absence of frames or seals minimize mildew and mold, making the shower easier to clean!
Shower Doors of Charlotte excels at building frameless showers and enclosures that are meticulously and professionally installed. Contact us!
Striking Metals & Hardware
Another way to instantly brighten and modernize your bathroom? Metal finishes! From metal faucets and light fixtures to towel racks and the hardware on the bathroom furniture, metal finishes are stunning and provide a pop of color.
Bronze and brass are both particularly "in" right now as they contrast with both dark and light bathroom schemes and pay homage to high-end living.