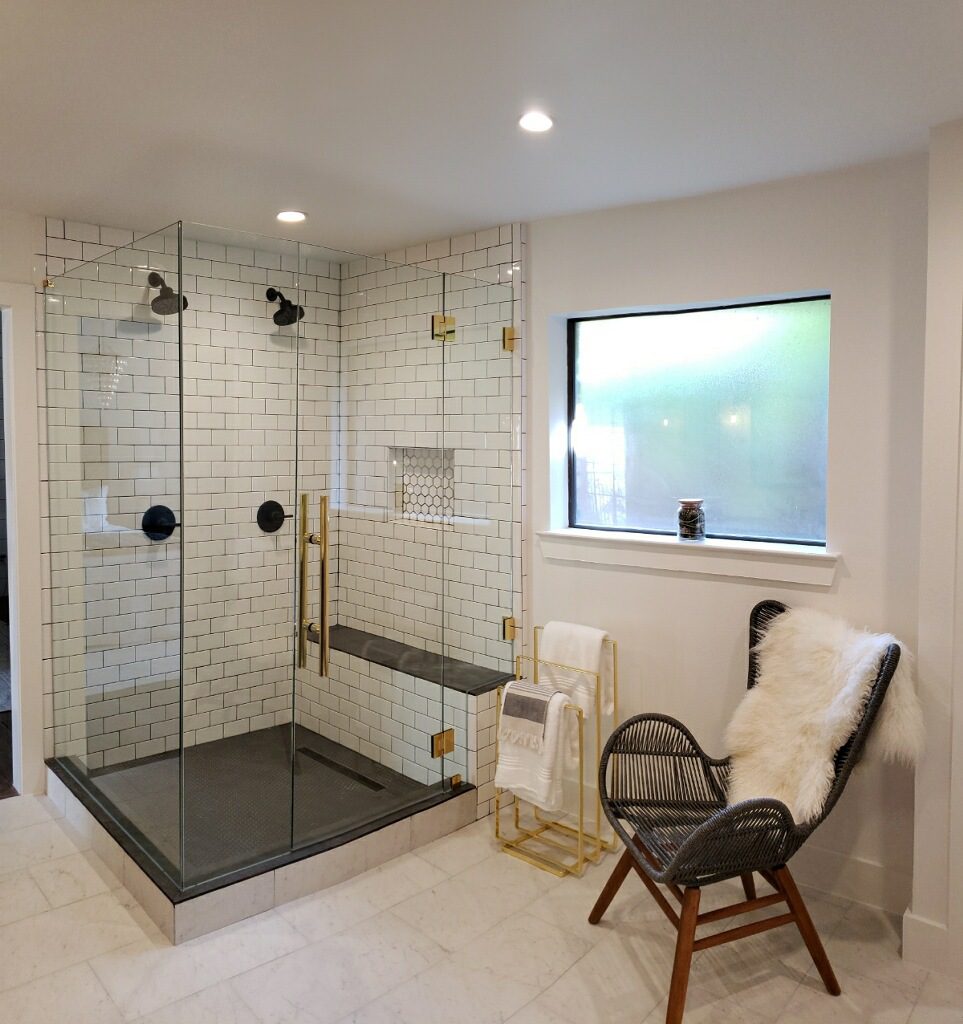 Upgrading your shower door is a great way to refresh your bathroom without breaking the bank. While many options for shower door replacement exist, nothing can compare to the elegance and style statement you get with a frameless shower door.
These doors not only add an aesthetic appeal to your bathroom but also give your shower a spa-like luxury. But as with any other home renovation project, there are things you must take into account before investing in a frameless shower door. Namely, the cost.
Let's discuss the cost of installing a frameless shower door and the factors that influence it, in addition to why you should opt for a frameless shower door over other options.
What Is a Frameless Shower Door?
Frameless showers are enclosed showers that use glass panels instead of metal framing support. With frameless glass, there are no frames, metal edges, or gaskets to collect water and allow mold to grow, making them easier to clean and maintain. 
These doors are usually heavier, available in 3/8-inch and ½-inch thickness, and use high-quality hinges and clamps for proper installation. By comparison, framed shower doors typically use 3/16 or ¼-inch glass, which is usually flimsy and less sturdy which is why the metal frame is required.
Installation Cost of a Frameless Shower
You can expect to pay anywhere between $1000 to $4,000 for a frameless shower door. The cost depends on many factors, including the size of the shower and the thickness of the glass. Some showers have even topped the $10,000 mark but those tend to look more like a shower room fit for a
All frameless shower enclosures are custom and designed to fit our exact opening. Since there is no metal to cover up gaps, the measurements must be precise to ensure a perfect fit.
Factors Affecting the Cost of a Frameless Shower Door
Frameless shower doors aren't created equal. The cost of the door or shower enclosure that you choose will depend on many factors, including:
The Thickness of Your Glass Shower Door
Most frameless showers are made with 3/8' thick glass but ½" glass is a little more rigid and may be recommended for larger showers. Half inch glass is also considerably heavier so will also generally require more manpower to carry & install.
Thicker glass will come with a higher price tag. So, if you want the thickest frameless shower door, make sure you have the budget to match.
Size and Design of Your Shower
A larger bathroom requires more materials and labor, therefore, making it more expensive than a smaller one. Similarly, a bathroom with a complicated design will also be more expensive despite its size. For example, a shower with several corners and angles will be more expensive than a standard rectangular shower. Mitered edges, glass to glass hinged door designs and angled walls also add to the final cost.
Additional Bathroom Modifications
Any modifications required—whether to the bathroom or door itself—will add to the installation costs. Towel bars, knobs, or robe hooks can also be added to customize the functionality of your shower. The finished height of the shower can also affect the final price. Although there is no standard height, showers that are over 80" require a heavier duty hinge and it will also add to the overall square footage of the shower enclosure glass. Full height or "steamer" style showers also increase the price due to the additional seals required to keep the steam in.
Homeowners prefer to match the shower hardware to the rest of the hardware in the bathroom. This can ramp up your shower installation costs if you choose a less common hardware finish. Bottom line, every frameless shower is custom designed to fit your exact needs and every shower has different factors that affect the final price.
Why Consider a Frameless Shower Door?
Although frameless shower doors are more expensive to install than their framed counterparts, they offer many benefits that make them every homeowner's favorite. For instance, these doors are durable, highly customizable, and easy to maintain.
Most importantly, frameless shower doors give your home a stylish yet contemporary look that will impress every visitor and increase your home's value.
Frameless Shower Doors in Charlotte, NC
Frameless shower doors are the way to go if you want to give your bathroom a clean and modern look. Depending on your budget and preferences, you can expect to pay between $1000 and $4,000 for a quality frameless shower door with expert installation.
Regardless of the type of shower enclosure you prefer, Shower Doors of Charlotte can help you transform your bathroom into a masterpiece. We specialize in luxurious frameless glass shower door installation and have over 35 years of experience in the industry.
Contact us today to learn more about our services and how we can help remodel your bathroom with a frameless shower door. Free Estimates.