About Shower Doors of Charlotte
Shower Doors of Charlotte is comprised of an amazing team and we work together to bring the highest level of customer service, extensive knowledge and decades of experience in the frameless shower enclosure business to every project. We strive for effective communication and thrive on exceeding expectations.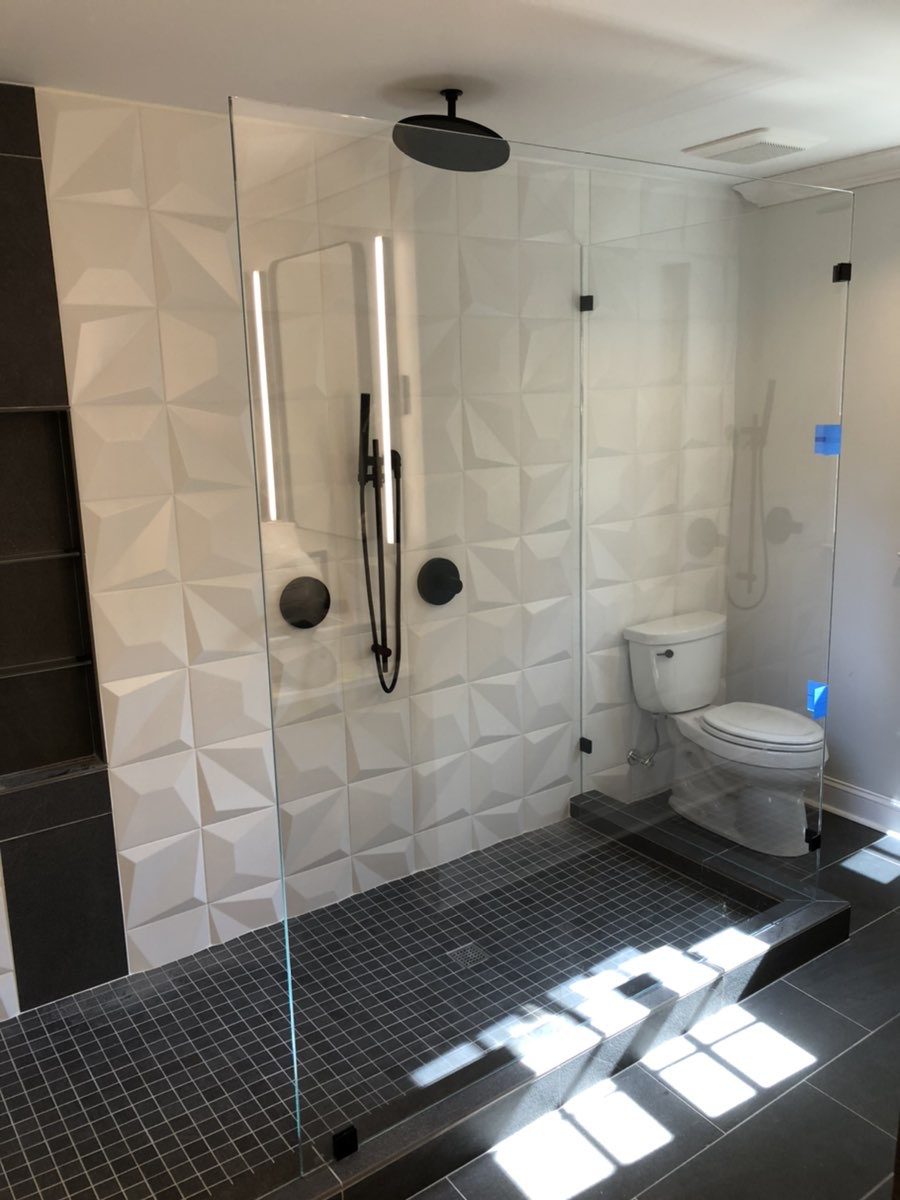 Why Choose a Frameless Shower Door?
We like to think our workmanship, customer service, product knowledge and years of experience set us apart from other companies. Also, we only do frameless shower enclosures so our crews are honed in and excellent at what they do.
We offer a lifetime workmanship warranty.
All of our installers are employees not subcontractors.
We have earned a 5.0 star google review rating with over 230 reviews.
We are fully insured.
Veteran owned. Locally owned. Family owned.
Shower Doors of Charlotte is the product of over 35 years of experience in the glass industry. Owners Mike & Chrissy Hood have successfully worked together for almost 20 years and have grown their family along the way. Mike grew up in the glass business, working for his Dad's company before joining the Marine Corps. He met Chrissy in 1998 while still in the Marines and they married in 2002. Together they have built a successful company and managed to balance work life with home life including two kids and two dogs.
We have learned, grown and concentrated our skill set to focus not only on a beautiful finished product but on excellent customer service as well. We truly strive to earn your referral and your five-star review; that is how we know that we have done everything to make each project perfect. As a family-owned business, we also involve our kids and try to set a great example of work ethic, integrity, giving back, and the importance of building something to be proud of.
One of the big perks of a family business is flexibility with our schedules. We have built a great team that allows us to make all of the softball and baseball practices & games with our kids Olivia  & Brandon. It has always been important to make time for family outside of work, sometimes it's a trip to the mountains, the beach or just movie night at home.
During the pandemic, homeschool happened at the office. It was a blessing to be able to just bring the kids to work. It was a struggle at first learning expectations, but once the kids were in a routine it definitely became easier. Everyone learned more patience and increased our multi-tasking skills.
One of our biggest obstacles this past year didn't involve the pandemic, but cancer. Chrissy was diagnosed with Lymphoma in January 2021 and has been in remission since May 2021. While she was still able to work from her laptop during chemo, each of the six treatments were 5 days in-patient each at Duke University. This added unbelievable stress to both the family and the business, but our amazing team stepped up and helped with everything from prayers and emotional support to picking up kids from school and helping to juggle our crazy schedules. Our team at Shower Doors of Charlotte is truly part of our family.
There is a lot that sets us apart from our competitors, but truly it comes down to our people, our family and our desire to be the absolute best, never settling on "good enough" and never stopping until each frameless shower enclosure is perfect and each client is 100% satisfied.
NEW CONSTRUCTION OR REMODEL
We work with homeowners, contractors, remodelers and interior designers on both new construction projects, renovations and replacements.
Shower Doors of Charlotte has a long legacy of top quality projects and has earned a reputation that has been built from the ground up on integrity, highly skilled staff. We work to earn your Five Star Rating!